Our company culture is dedicated to your success.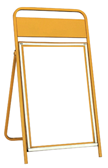 Promotion & Placement
Any promotional production aims at reviving the interest towards the brand, product or service concerned.
We create powerful sales development tools: Point of Purchase Advertising, contests, coupons, promotional material & clothes etc. We produce or choose these tools in order to address the intelligence and sensitivity of your prospects. The expected result is to acquire new customers and increase the loyalty of the existing ones.